Aviation is a wonderful resource for providing education not only about history but also about science, technology, engineering, and maths (STEM).  We can tailor workshops to fit in with the National Curriculum and cover such areas as:
Principles of flight
Aircraft development
Aerodynamics
Geography and map reading
Time zones
Environmental impact
Workshops are available for primary, junior, and secondary schools, as well as cub, scouts, and youth groups.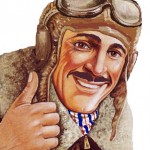 For younger children our fictitious superhero "Captain Heritage" adds to the fun of learning about aviation in our learning resource material, or in person.