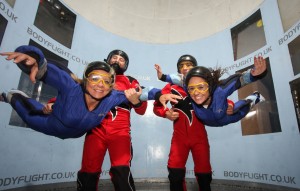 Feel the wind rush through your hair as you skydive under the supervision of an instructor in the UK's largest indoor skydiving facility. Flying suit, helmet and goggles are provided, you get a full safety briefing, and two flights inside the wind tunnel.
From £95.00 per person based on 6 in luxury chauffeured mini-van
If that is not enough for an extra £60.00 per person you can also try indoor surfing and a bungee jump from the outside of the wind tunnel at this venue.
To book your Indoor Skydiving Experience please use our contact page to tell us the size of your group and when you would like it, and we will email you back with an exact quote and availability.