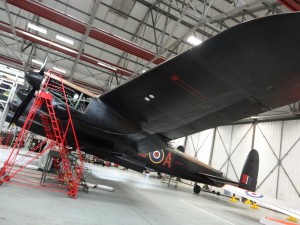 At East Kirby we take you to the only opportunity in the UK where you can explore the inside of a Lancaster and sit in each of the seven crew positions! If that was not enough you can then go for a taxi ride around the airfield to get a sense of what it was like for the brave crews as they set off on a sortie. There are many other exhibits here – the control tower and operations room recreated as it was in the 1940′s, and exhibitions depicting the Home-Front, and Escape and Evasion techniques of downed aircrew.
In WWII the Lancaster Bomber formed a large part of the Royal Air Force taking the aerial war to Germany. Today as part of the Battle of Britain Memorial Flight the only airworthy Lancaster in the country can be seen when we visitat RAF Coningsby. There are also Spitfires, Hurricanes, and a Dakota transport plane.
Afternoon tea will be taken at the Petwood Hotel, famous as the Officer's Mess for 617 Dam Busters squadron, and Sqn Ldr Guy Gibson. There is plenty of memorabilia to see from this period.
Guide price: for 4 people by train from London from £650.00 per person
To book your Lancaster Experience please use our contact page. Inform us the size of your group and your dates. We will email you back with an exact quote and availability.